ICAP Central American Notebooks, No. 32 (April 2021)
ICAP Central American Notebooks, No. 32 (April 2021)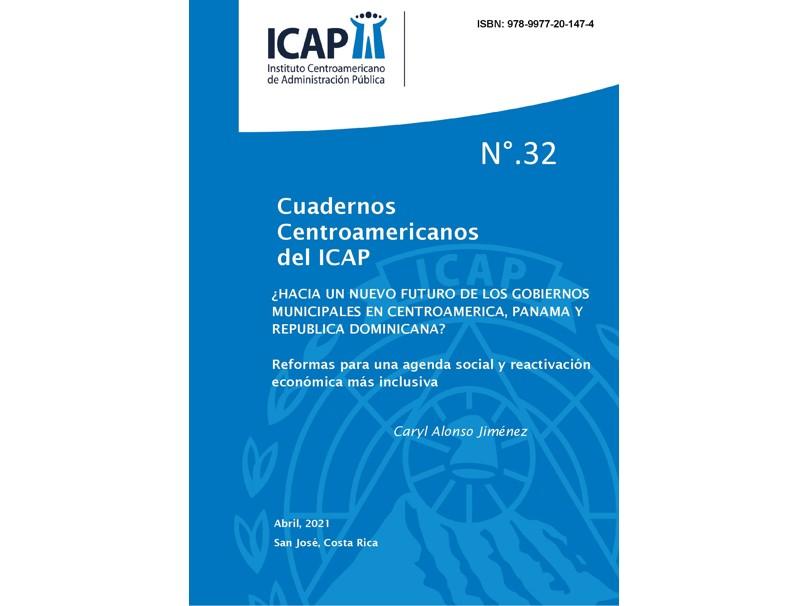 Content Type:
Publication
Thematic Area:
Governance and Public Institutions
Resource Language:
Spanish
In this issue, developed by Dr. Caryl Alonso Jiménez, it summarizes around 5 years of research and proposes a global approach to the issue of decentralization in the region, beginning with a historical review of the modernization processes of Central American States and how each implemented their own understanding of the concept.
In addition, the author continues with a two-level analysis; reviewing the tools, characteristics and indicators used in the measurements of success proposed by the planning approaches of each country, and in each case the contrast of these management instruments with success stories so that some good practices of each one can be reviewed.
Finally, and in the light of the current changing context, characterized mainly by the needs for action in the framework of the global health crisis, the author reflects on the importance that a local agenda focused on social security and economic reactivation can suppose for the Central American countries, currently little-used mechanisms, but which are proposed to be functional in the context of the current crisis.
This Central American Notebook # 32, TOWARDS A NEW FUTURE FOR MUNICIPAL GOVERNMENTS IN CENTRAL AMERICA, PANAMA AND DOMINICAN REPUBLIC: Reforms for a more inclusive social agenda and economic reactivation, proposes global reflections on the issue of decentralization and planning at the local level in the region, a vision and a projection of the route that points to Central American development.
File added date: August 2021
Author: ICAP
Download Publication: Spanish
URL: https://icap.ac.cr/wp-content/uploads/2021/05/Cuaderno-Centroamericano-32-Rev-final-06052021.pdf