Building a New Future: Transformative Recovery with Equality and Sustainability
Building a New Future: Transformative Recovery with Equality and Sustainability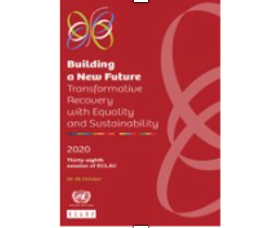 Thematic Area:
Leadership and Public Servants' Capacities
Resource Language:
English
This document, presented by the Economic Commission for Latin America and the Caribbean (ECLAC) to its member States at its thirty-eighth session, argues that Latin America and the Caribbean is in a position to move towards a "big push for sustainability" through a combination of economic, industrial, social and environmental policies capable of driving a recovery with equality and sustainability and relaunching development in the region.

The document has five chapters. The first studies the three crises (slow growth, growing inequality and the environmental emergency) affecting economies and societies around the world and those of Latin America and the Caribbean. The second presents a framework for analysing these crises in an integrated manner and measuring their magnitude in the region. The third chapter examines the quantitative impacts on growth, emissions, income distribution and the external sector under different policy scenarios, highlighting the potential of various policy combinations to forge a more dynamic growth path, with lower emissions and greater equality. The fourth identifies seven sectors that can drive sustainable development and proposes policies to foster these sectors. The fifth chapter concludes with an analysis that links up macroeconomic, industrial, social and environmental policies and the role of the State in building consensus for their implementation.
TABLE OF CONTENTS
•Introduction
•Chapter I. The three crises of the development model facing the global economy and Latin America and the Caribbean
•Chapter II. A three-gap model and sustainable development scenarios .-- Chapter III. Scenarios for a new development pattern
•Chapter IV. Sectors that drive sustainable development .
•

Chapter V. Policies for transformative recovery: growth, equality, and sustainability.