African Journal of Public Administration and Management, Vol XXVIII No. 1
African Journal of Public Administration and Management, Vol XXVIII No. 1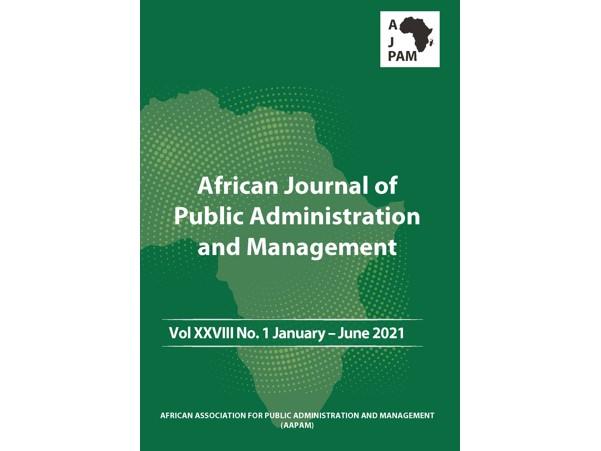 Content Type:
Publication
Thematic Area:
Governance and Public Institutions
Resource Language:
English
The volume opens with a unique article: Bureaucratic Theory and Public Sector Reforms in Nigeria: How far and How Effective? Adewale from Nigeria takes us back to the debate on bureaucratic theory and public sector reforms.
Belew and Bekure from Ethiopia examine the importance of road infrastructure and its positive socio-economic impact on the economy and overall development.
Wayne Charles-Soverall, calls on African leaders to implement dynamic governance frameworks that facilitate empowerment and improved learning at all levels, to enhance capabilities, tap into underutilised potentials and eventually lead to radical transformation from the socially acquired dependency that debilitates the African continent.
Dennis and Benjamin from Kenya have carried out research which examined road carnage in Kenya.
Gitonga discusses national values and principles of governance.
Hur-Yagba and Williams from Nigeria evaluated the impact of employee performance appraisal on service delivery in the hospitality industry.
Johnson and John's article highlights the challenges that managers of IDP camps have to contend with as a result of inaccurate statistics.
Michael and Richard from Malawi argue that technologies and innovations have great potential for contributing to winning the battle against environmental degradation.
Vaiva and Rosenbaum examined the United Nations (UN) Agenda 2030 (17 Sustainable Development Goals (SDGs)) which, if achieved by 2030, will transform the lives of much of the world's population.
File added date: June 2021
Author: AAPAM
Download Publication: English
URL: https://www.aapam.org/Publications/AJPAM/AJPAM%20Vol%20XXVIII%20No.%201%20January%20%E2%80%93%20June%202021.pdf