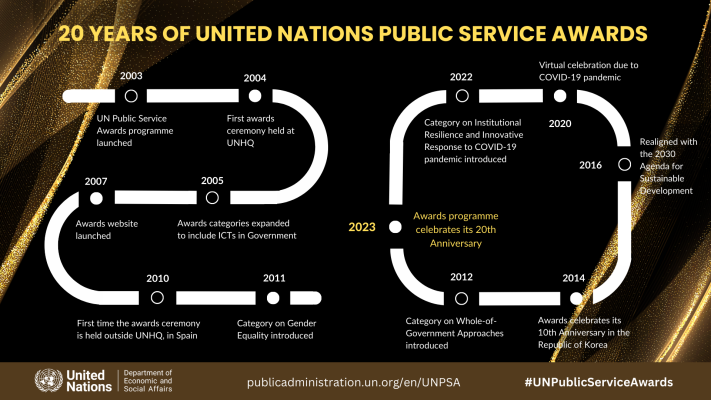 Contributor
UN DESA/DPIDG
Thematic Area
Innovation in Service Delivery 
In a significant milestone, the United Nations Public Service Awards (UNPSA) program is celebrating its 20th anniversary in 2023. The UNPSA, established in 2003, aims to recognize and promote innovation and excellence in public service for the 2030 Agenda for Sustainable Development. Over the 20 years, the UNPSA has recognised nearly 200 innovative public service initiatives from around the world, highlighting their crucial role in promoting sustainable development and inclusivity.
The 2024 UNPSA will call for nominations on 30 June. Nominations for the 2024 UNPSA are invited in three categories: 1) Special category on Tackling Climate Change; 2) Gender-Responsive Public Services; 3) Innovation in Public Institutions.
More information is available here.
For any inquiries on the UNPSA, please contact unpsa@un.org