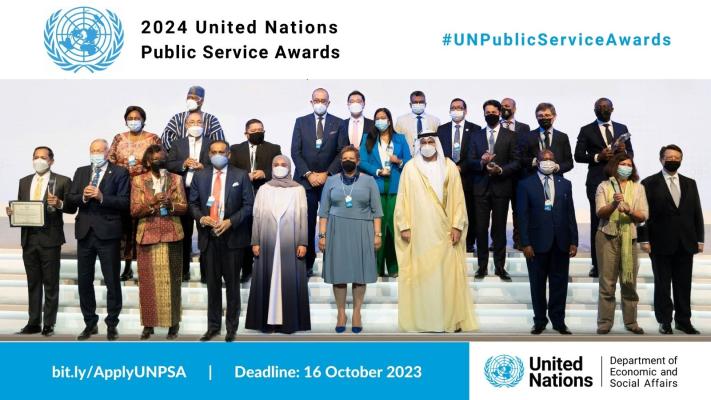 Contributor
UN DESA/DPIDG
Thematic Area
Innovation in Service Delivery 
Applications are now open for the 2024 United Nations Public Service Awards (UNPSA), which recognizes excellence in public service at the national, sub-national and local level.
UNPSA rewards the creative achievements and contributions of public service institutions that lead to a more effective and responsive public administration worldwide. It promotes the role, professionalism and visibility of public service. 
Nominations for the 2024 UNPSA are invited in three categories: 1) Innovation in Public Institutions; 2) Gender-Responsive Public Services; and 3) Special category on Tackling Climate Change.
Applications must be submitted before 16 October 2023 through the UNPSA portal at: https://publicadministration.un.org/en/UNPSA
For more information contact: Ms. Victoria Kim (@email), Division for Public Institutions and Digital Government of the UN Department of Economic and Social Affairs